Posted by Clare Wheeler on 06/14/2011
[written May '11]

Aarhus, in the middle of Aarstreet...

Greetings Friends! I'm Clare from the Swingle Singers (*), writing to you from my hotel room in Montreal. Sara also says hi. This weekend I was hanging out at the Aarhus Vocal Festival in Aarhus, Denmark. It was quite a spectacular event, and I wanted to share some of it with you while I'm still buzzing! I've even made you a sexy little video montage of some of my favourite things. (Don't ever say I'm not good to you).


Early Friday evening, I headed over with Bill Hare to the Ridehuset ("Riding House"), where we were happily reunited with friends Florian Staedtler (Vocal Blog), Jussia Chydenius (Rajaton), Peder Karlsson (formerly The Real Group) and the party was on.

We heard three groups that evening – starting with Papaya – a Danish group that sings all African music, I think primarily from South Africa. They travel there to learn local songs, their meanings and styles and then share them back home in Denmark. Their set was complete with some authentic dancing...which you can't argue with for a great start to a Friday night.

It was interesting to me that they were the first of several groups that had a percussionist (non-vocal) on stage with them. Obviously this substantially contributed to the authentic sound of the African night! Herein lies one benefit of calling your festival a "vocal" festival, rather than "a cappella"...

Papaya were followed by the Norwegian group Pust, who I first heard at the Mainz Vocal Jazz Summit in 2009 and instantly fell in love with. And not just because of their bass Mads, who sounds like an East Londoner when he says absolutely anything. (Cake or Death?!) I'll never forget hearing them for the first time. I heard their soundcheck through a concrete wall and thought a whale was giving birth. Not that I really know what that sounds like. Without the concrete wall between us, at the gig that evening, I was totally mesmerised in an ethereal world of Norwegian folk and original music. It was the first group I had heard where I thought "aha. They're about making music. It just happens to be a cappella. I like this." (insert Peder Karlsson quote?)

AND THEN!!!! Dun-duh-nuh-dan-dan-DUHHHHHHHH!!!!! there was...Postyr Project! (which in Danish means something along the lines of "making a scene"). For me, this was the discovery-delight of the festival. Peder had warned me of their awesomeness, and they did not disappoint. We scurried from the back table where we'd been chilling with Bill, Jussi, Jake (House Jacks), Jonathon Minkoff (SingStrong), Tobi (Swingles), John Kjøller (Basix) <CLANG> to the front for their set. It opened with one guy and his laptop, and a cellist (point two for "vocal" music versus "a cappella" in our festival titles). It's like I'm hearing a mix of Hanne Hukkelberg and Bjørk on stage – and mostly a cappella. Tine and Line, the two ladies of the group, form an epic light and dark diva-duo – like the yin and yang of the group. Their harmony lines, often built from perfect fourth intervals give it an earthy and folky feel. Then they just...well, they freakin wail. And it's awesome.

Here's their music video, watch it and then buy their album on iTunes. We'll wait for you.


Saturday and Sunday consisted of fabulous workshops with various fabulous people, but I want to talk about Bobby McFerrin and Vocal Line. Roger Treece, Bobby's arranger has a long-standing relationship with Jens Johanson (who founded and runs Vocal Line) and the Aarhus Festival, unfortunately this was the first year he was unable to make it. Vocal Line form the majority of the non-Bobular voices on his newest album, VOCAbuLarieS. Listen to some of this before continuing...RAWR!

Bobby actually did a wonderful sort of half-talk/half-sing at lunchtime and then spent the rest of the day wandering between workshops and coaching sessions checking everything out. Which must have been a little terrifying for the guy running the "Circle Songs" session...but there is actually too much to say about that session to mention here. Florian Staedtler has written a great blog on it, which is really worth reading.

Peder asked a few of us to help him do the audience warmup at the start of the gig in the evening. When I turned up to rehearse, it was a very sexy group, consisting of two Swingles (myself and Tobi) Morten …. Formerly of Basix and now a member of m-pact, Jussi Chydenius (Rajaton), Jake Moulton and of course Peder.

Then Vocal Line entered the stage. Firstly, they are all hot. Holy crap, Danish people are beautiful. I was completely blown away by their set. In all honesty, I couldn't tell you what they sang, because I just sat with my mouth open, drooling from start to finish. Forget perfection (whatever that means), because that was the least of it. Visceral, spine-tingling, rhythmic and earthy. And just downright sexy. For the last song they all moved forwards in front of the mics, and lined up across the stage, and sang acoustically, their version of Viva La Vida. Jens (conducting them) then turned around to us in the audience, and started conducting us. I thought it was a little optimistic of him to hope or expect us to know this song intimately, but then I realised that others in the audience had full scores of their arrangement, to sing along to. What an amazing idea! And the hairs on my arms went a little bit mental, won't lie.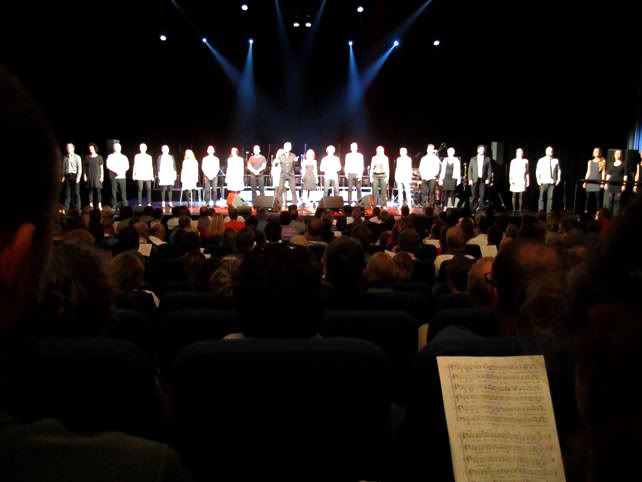 After the interval (sorry, interMISSION) Vocal Line come on stage to perform with The Bobby McFerrin. The music of "VOCAbuLarieS" is a statement of intent for contemporary choral music. Now that this music has been written, performed, and heard – it's hard to go back. Heed my words, people, something changed with this album. And the Danish trend of "rhythmic choirs" that is so mainstream and common there, needs to make its way into our education systems also.

I'll make myself stop here. There were other concerts, fantastic workshops etc, but this is where I want to leave you. This weekend I heard music like I hadn't heard before. I was moved, I was excited, and I was inspired. And I never felt more strongly that we need to get this dialogue going across the Atlantic. Find out what your a cappella family is doing around the world, keep this art form evolving and changing!

Unfortunately the Aarhus Vocal Festival only runs every two years, but you know, if you wanted some "Eurocappella", think about joining us in London this January for the London A Cappella Festival! ;-)

Over and out from beautiful Canadia.

About the author:
Clare Wheeler is a jazz singer, composer and arranger. She sings alto with The Swingle Singers, and lives in London. She studied violin and voice at Chethams School of Music, Manchester, and then jazz composition and singing at Guildhall School of Music and Drama in London. A fan of travelling, eating chocolate-based foods and twitter, she is also known as @dinkyswingle, Wheelie or Wheels.